Although, I believe that each individual knows what is best for them and any person supporting somebody in pain is nothing more than a facilitator to the patient healing themselves. But before this can happen the person in discomfort may need to gain a new understanding or perspective to find what is right for them to achieve comfort.
These books helped me gain a much broader understanding of discomfort and how we can overcome it. I hope they can help you too.
If you have questions or comments about any of these books please do ask, I's be happy to share my thoughts.
---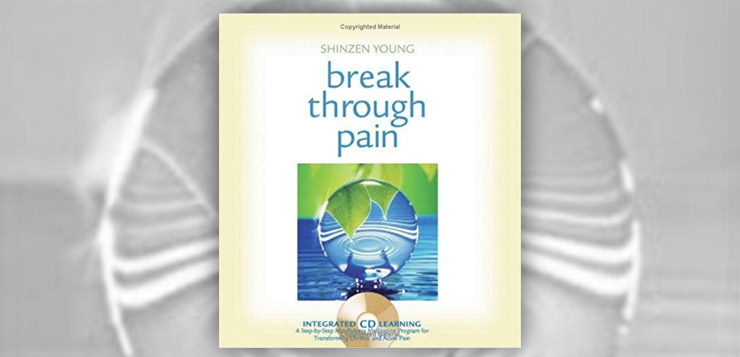 What I learnt from this book:
Suffering results from resisting pain based on the pain equation of S=P x R.
The book is described as:
The newest treatment for pain is one of the oldest, most effective strategies for pain-free living; meditation. With Break Through Pain, meditation expert Shinzen Young teaches you how to retrain your relationship to pain through traditional meditation practices. Drawing from 30 years of results in the field, this widely respected teacher offers the essential techniques that have proven successful at pain management centers around the country. Break Through Pain adapts the core principles of mindfulness training to a practical process that can treat even extreme, chronic pain effectively, possibly reducing the need for drugs or surgery.
Buy Now
---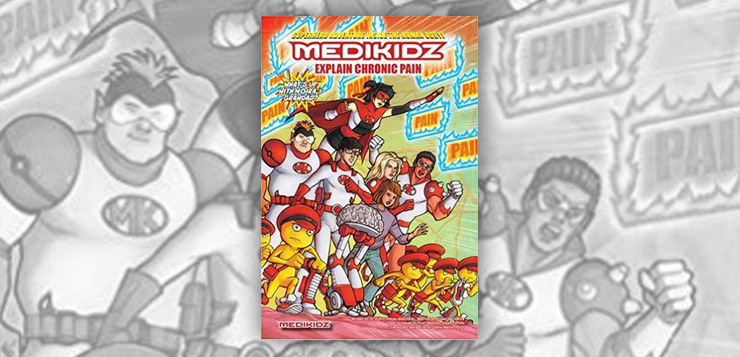 What I learnt from this book:
How the body in chronic pain works and what can be done to support ourselves and others.
The book is described as:
Moira loves spending time with her grandad and doing lots of fun things together. Recently, however, her grandad has had to cancel their outings because of his pain. Moira feels hurt and let down, and doesn't understand why she can't see him very often. Luckily, the Medikidz are on hand to take Moira on an exciting trip to Mediland where she learns all about chronic pain.
Buy Now
---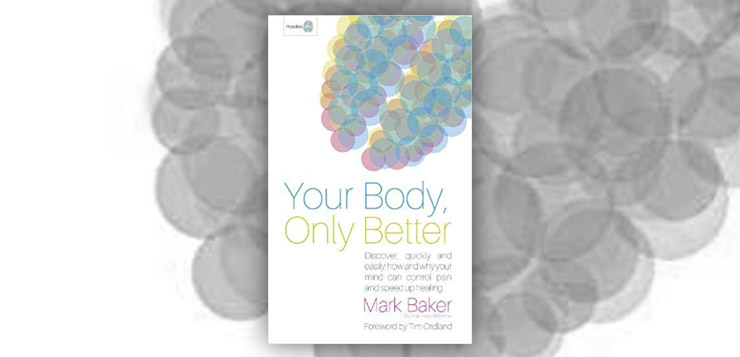 What I learnt from this book:
Well, I wrote this one, so I am obviously a bit biased. However, this book does share 50 reasons on how and why you can control pain with your mind.
The book is described as:
This collection of simple and clear reasons, examples and techniques have been created to help you develop your belief in the power of your mind. A belief that you, too, can have more control than you ever thought possible over your pain, recovery and healing. This is a great starting point for anyone looking to learn more about why and, most importantly, how people can regain control of their life from pain and illness.
Buy Now
---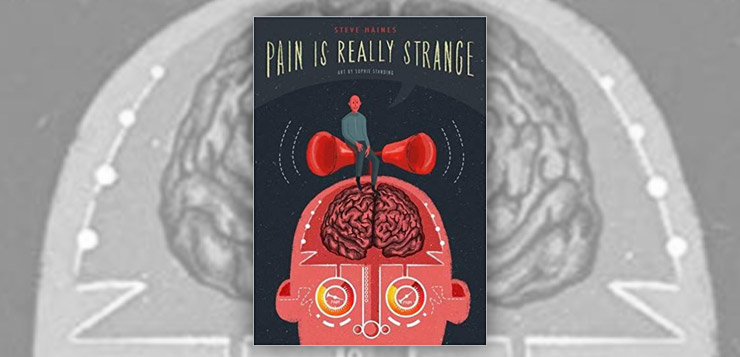 What I learnt from this book:
How the perception of pain can change and differ with the same stimulus.
The book is described as:
Answering questions such as 'how can I change my pain experience?', 'what is pain?', and 'how do nerves work?', this short research-based graphic book reveals just how strange pain is and explains how understanding it is often the key to relieving its effects. Studies show that understanding how pain is created and maintained by the nervous system can significantly lessen the pain you experience. The narrator in this original, gently humorous book explains pain in an easy-to-understand, engaging graphic format and reveals how to change the mind's habits to transform pain.
Buy Now
---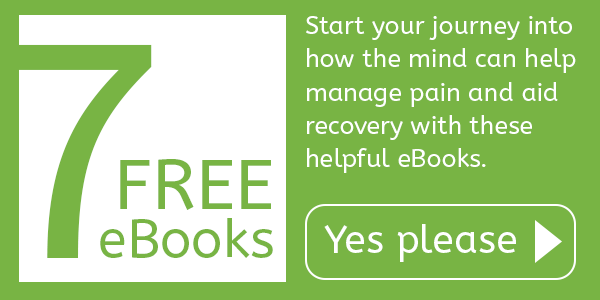 ---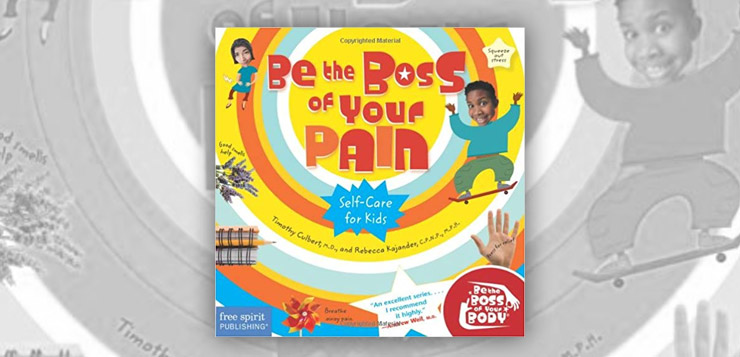 What I learnt from this book:
Really simple techniques to help reduce pain and discomfort.
The book is described as:
Describes how pain, such as a stomach- or headache, may affect mood or activities and suggests techniques children can use to reduce or control pain, such as altering breathing patterns, aromatherapy, and distraction.
Buy Now
---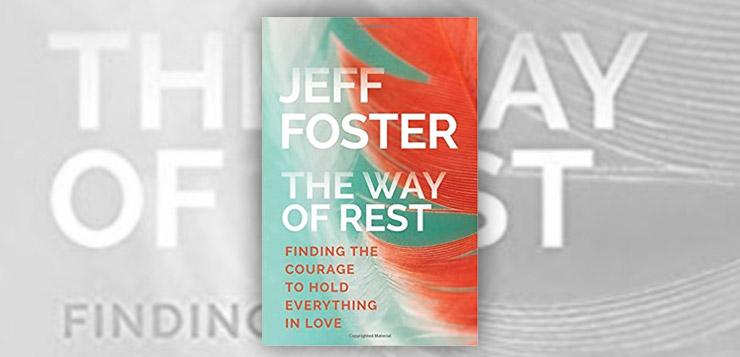 What I learnt from this book:
Chapters 27, 50, 51 and 53 share that pain is moment by moment experience and not the story we tell ourselves about the pain, which is known as suffering.
The book is described as:
This book is about rediscovering that you are perfect even in your imperfection, explains Jeff, and that your pain, confusion, and exhaustion are saturated with intelligence and sacredness. Whether read as daily inspirations or cover to cover, this treasury of teachings guides us in cultivating vulnerability, finding peace of mind, and celebrating the majesty of the moment.
Buy Now
---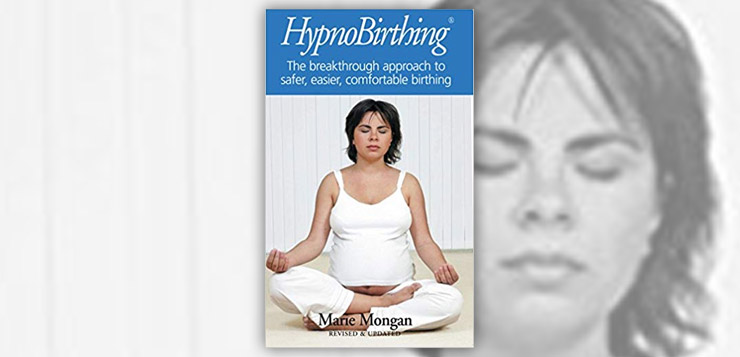 What I learnt from this book:
How we use language around pain can increase or decrease the discomfort. Just pick the right words, which we can all do.
The book is described as:
Embracing a natural birth through HypnoBirthing® allows parents to take control of the most important event of their lives, and build a stronger connection with their pre-born baby as a conscious little person they can interact with, even before birth. Marie Mongan explodes the myth of pain as a natural accompaniment to birth. It is the fear of pain, a fear that keeps the body tense and closed during birth, which must be released to allow the experience of a gentle birth.
Buy Now
---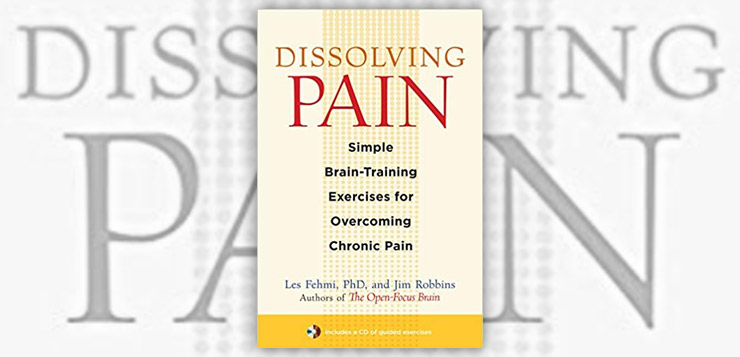 What I learnt from this book:
That broadening our focus so pain is just part of our life and not the whole of it enable it to be managed and reduced with a simple technique.
The book is described as:
For four decades, Dr. Les Fehmi has been a leader in brainwave biofeedback (also called neurofeedback), training individuals how to balance and regulate their brainwave patterns to improve mental, emotional, and physical health.
Dissolving Pain is based on the premise that although pain is perceived to exist in a particular part of the body, pain in fact resides in the brain. Dr. Fehmi shows us that it is possible to learn to resolve pain at the brain level, using simple attention exercises. Drawing on scientific research, Dr. Fehmi explains how to quiet the pain signal in the brain, empowering readers to free themselves from many forms of pain and discomfort.
Buy Now
---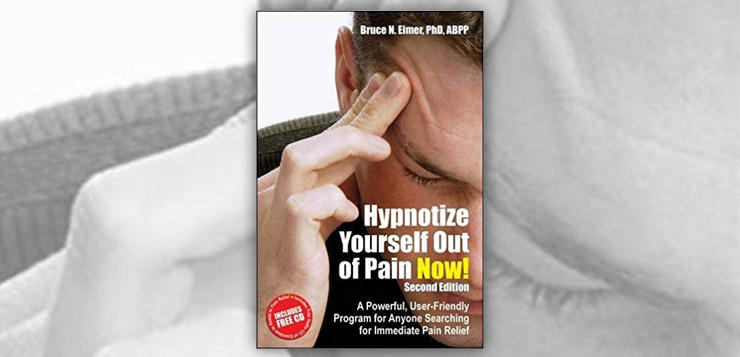 What I learnt from this book:
Lots of technique to self manage our pain and discomfort.
The book is described as:
Do you suffer from chronic pain and want to get more relief and gain more control without drugs? Hypnotize Yourself Out of Pain Now! is for people who suffer chronic pain. Hypnosis for pain management is not a newly invented therapy or clinical application, but in fact has been employed with great success for more than two centuries. The use of hypnosis as a tool for relieving pain is not experimental it is in fact tried, true, and proven.
Buy Now
---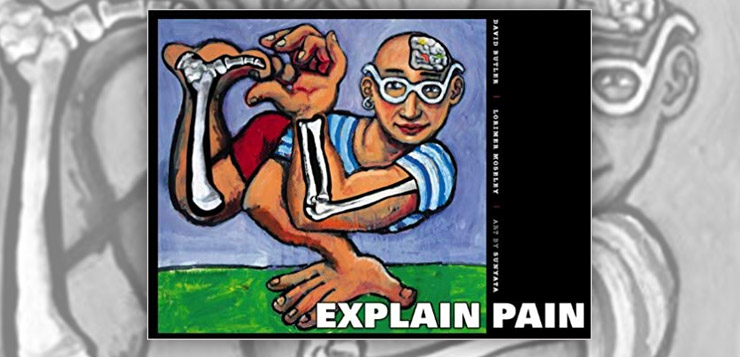 What I learnt from this book:
Really interesting metaphors to help, well, explain pain.
The book is described as:
Imagine an orchestra in your brain. It plays all kinds of harmonious melodies, then pain comes along and the different sections of the orchestra are reduced to a few pain tunes.
All pain is real. And for many people it is a debilitating part of everyday life.
It is now known that understanding more about why things hurt can actually help people to overcome their pain. Recent advances in fields such as neurophysiology, brain imaging, immunology, psychology and cellular biology have provided an explanatory platform from which to explore pain. In everyday language accompanied by quirky illustrations, Explain Pain discusses how pain responses are produced by the brain: how responses to injury from the autonomic motor and immune systems in your body contribute to pain, and why pain can persist after tissues have had plenty of time to heal.
Buy Now
---
If you like this post you will also enjoy: